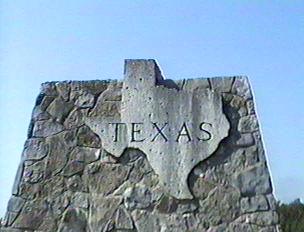 The Texas Trip Pictures
Around the beginning of September 1997, on the ninth I believe, my friend Court and I set off on one adventurous trip. Our trip lasted about a week and spanned five states (Tennessee, Arkansas, Texas, Louisanna, and Mississippi). Here are some shots from the roadtrip tapes we recorded.

Crossing the Mississippi
Here we are crossing the mighty Mississippi in Memphis.

The Paper
This piece of paper became the memory log for the trip. Anything off the wall we said was logged on this sheet.

Toys
Here I am entertaining myself through the boring state of Arkansas.

Outside of Little Rock
Some river.

Little Rock, AK
A shot of the skyline of Little Rock, AK.

Me in Little Rock
We stayed in a Red Roof Inn. Here I am hogging both beds.

Me still in Little Rock
Me jumping on the bed for the hell of it.

The Steakout
If we didn't know better we would have thought that this police officer was steaking us out all night. He was still there when morning came.

Court in Little Rock
My friend Court.

We made it!
This is the welcome center in Texarkana.