Motion Picture Sound
1910-1929 - see Motion Picture Sound part 1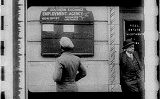 frame with soundtrack from the
1935 WPA film We Work Again,
National Archives.

1930 - After the invention of electrical recording that made sound pictures possible after 1926, the motion picture soundtrack was standardized by Western Electric and its licensing agent Electrical Research Products, Inc. (ERPI) as a single-track (monaural) sound-on-film (optical) variable-width track on the edge of a 35mm film strip. An example of such a soundtrack can be seen in the image at right on the left side of the 35mm film between the image and the sprocket holes. Some variable width tracks had a solid black left edge, as in the example at right, or some had a solid right edge, or some were varaible on both edges. In most theaters, a Western Electric 35mm film projector had an optical pickup head that read the variable width image with a selenium photoelectric cell, producing an electrical signal that went to a monaural tube amplifier that drove a large horn speaker behind the screen at the front of the theater (see Sound Research at Bell Labs for the development of electrical recording).

1935 - Douglas Shearer at MGM developed a two-way speaker system that became standard in theaters for the next 20 years. This system used a multicellular high-frequency horn and a low-frequency section of 15-inch woofers. MGM first installed the speakers in the New York Loew's 5000-seat Capitol Theater on Broadway for the premier of Romeo and Juliet. To make components, MGM turned to the Lansing Manufacturing Co. in Los Angeles that grew into the Altec Lansing Co. by 1941 and JBL in 1955, the industry leader in motion picture loud speakers. The Shearer-Lansing system won an Academy award in 1936 for technical excellence. (see A Brief History of James B. Lansing by John Eargle)

1937 - The film One Hundred Men and a Girl starring Deanna Durbin was released by Universal in standard monophonic sound, but it was the first film soundtrack originally recorded by RCA in the "Multiple Channel Recording" process that had been developed by Bell Labs and RCA since 1932 at the Philadelphia Academy of Music. The songs of Durbin and the orchestra of Leopold Stokowski were recorded on 9 channels, each channel printed optically on 35mm motion picture film. The 9 channels were then edited in Hollywood into one channel for the optical soundtrack on edge of the release prints. The same recording process would be used in 1940 for Disney's Fantasia.

1940 - Nov. 13 premier of Walt Disney's Fantasia in New York's Broadway Theater with a multichannel soundtrack produced by Leopold Stokowski who recorded an optical track for each section of the orchestra, resulting in 9 separate soundtracks.

These were mixed by Stokowski into 4 master optical tracks that were played in synchronization on special equipment made by RCA for a multiple-loudspeaker theater installation called "Fantasound"; behind the screen were three horns and placed around the other walls of the theater were 65 smaller speakers. The separation and directionality of sounds was impressive. However, the system was not practical because of the $85,000 cost to equip each theater, opposition by unions, and a demand by the government that RCA stop manufacturing the necessary sound components because of defense priorities. After the 2nd full installation of equipment at the Carthay Circle Theater in Los Angeles, it was not installed in any other theaters. Instead, eight "Fantasia Road Show" versions were assembled, each with 15,000 pounds of equipment but without the full surround sound loudspeaker system. Fantasound ended in 1941 and would not be heard again until a remastered version in Dolby Stereo was recorded in 1982 with Irwin Kostal conducting the Stokowski arrangements. In 1990 Disney re-released the film in magnetic 6-channel "Fantasound '90" at the Cinerama Dome Theater in Los Angeles with a similar arrangement of surround sound equipment as was used in the 1940 Carthay Circle Theater showing, but all other theaters in America would show it in standard Dolby 70mm magnetic 4-track matrix stereo sound. See the articles on Fantasound at the American WideScreen Museum.

1952 - This is Cinerama premiered Sept. 30 at the Broadway Theater in New York and would play for 122 weeks. This 3-projector system designed by Fred Waller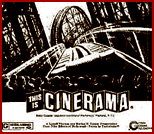 1953 ad from

used a wide curved screen and a separate 7-track magnetic soundtrack designed by Hazard E. Reeves and Walter Hicks for specially-equipped Cinerama theaters [pictures of the Neon Movies' Cinerama in Dayton, Ohio show historian/technician John Harvey threading the Cinerama 7-track magnetic sound reproducer]. Because of the high cost of equipment and technical complexity, Cinerama, Inc. would make only a few more feature films in the 3-strip process, such as Seven Wonders Of The World in 1956 and How the West Was Won in 1962. The State Dept. exhibited the film in 1955 at a trade fair in Damascus, Syria, finding propaganda value in the film, especially the America the Beautiful segment. The USSR produced its version of cinerama called KinoPanorama; its Great Is My Country won a prize at the Brussels World's Fair in 1957 (see Cinerama at American WideScreen Museum)


1953 - The Robe premiered Sept. 16 at the Roxy in New York in Cinemascope by Twentieth Century Fox with 4-track magnetic soundtrack on the edge of each 35mm cellulose tri-acetate film strip (allowing smaller sprocket holes than weaker nitrate film, and more room for the soundtrack). The Cinemascope technique used an anamorphic lens to film and project a wide image on a curved screen 64 1/2 ft. wide and 26 1/2 ft. high, with three speakers behind the screen (see Cinemascope at American WideScreen Museum)

1954 - White Christmas released April 27 in Paramount's VistaVision horizontal 35mm widescreen format with Perspecta sound. "Perspecta employed a

single, conventional monophonic soundtrack onto which were encoded sub-audible control signals. Tones of 30, 35 and 40Hz were detected by an integrator unit connected to the projector's sound head and used to turn up the gain on left, centre and right hand speaker channels. Although this did not provide true stereo, it did create directional effects with the additional advantage that mixing for Perspecta was considerably quicker than mixing for a CinemaScope magnetic soundtrack, as it merely required the sound to be panned between the three channels to follow the action on screen." (quote from Mark R. Baldock's VistaVison page). Paramount's Strategic Air Command opened in April 1955 with an improved form of VistaVision projecting an image on a curved screen 64 ft. wide and 35 ft. high.

1955 - Oklahoma! premiered Oct. 10 at the Rivoli Theater in New York in 65mm Todd-AO with a separate 6-track magnetic soundtrack system designed by Westrex and Ampex, running at 90 ft. per minute (24 fps) in synch with the film projector running at 112.5 ft. per minute (30 fps).

Michael Todd joined with Joe Schenck of Fox and George Skouras of United Artists Theatre Circuit to form the Magna Theatre Corporation for production and distribution of Todd-AO films. The special camera was developed by Dr. Brian O'Brien at the American Opeical Company. The image was projected on a curved screen 50 ft. wide and 25 ft. high, and 13 ft. deep in the center. The format was also used for Around The World in 80 Days in 1955 and South Pacific in 1958, but was discontinued and replaced by the 70mm format. Image at right is from a newspaper ad for Oklahoma! 1955/10/11.

Image at left from 1955 newspaper ad for the Cinemascope version of Oklahoma! that was filmed at the same time as the experimental Todd-AO version and was exhibited in theaters not equipped with Todd-AO equipment. The 1994 laserdisc restoration of Oklahoma! used the Todd-AO version with some scenes filmed differently than the Cinemascope version. From 1950s to 1970s, expensive 70mm films used 6-track magnetic soundtrack 5mm wide placed on the filmstrip between the image and the sprocketholes.


1967 - The Graduate became on of the first films to use old songs from records as a major part of its musical soundtrack. The songs were taken from earlier LPs by Simon and Garfunkel. The song "Mrs. Robinson" was the only original tune but sung in the film only in fragments. Later, the full version was composed and recorded for the soundtrack album, and became the first popular song that mentioned "Jesus" by name, and some radio stations would not play it. See Paul Simon - Now and Then by Spencer Leigh, 1973, from The Graduate Soundtrack. The technique of using popular records in film soundtracks would become standard practice in the 1970s after the success of nostalgic films such as American Graffitti in 1973.

1970 - November - Dolby A-type noise reduction, developed in 1965 by Ray M. Dolby, was tested on the film Jane Eyre


1971 - A Clockwork Orange, the first film to be mastered with Dolby noise reduction, released in December with conventional optical soundtrack; 3 months later the Dolby Model 364 cinema unit was introduced to decode optical soundtracks that contained A--type noise reduction. Image at right of Alex from the Kubrick page by Patrick Larkin - also poster
1974 - Earthquake premiered Nov. 15 in the Chinese Theater in Hollywood with Universal Picture's Sensurround process developed by W. O. Watson and Richard Stumpf at Universal. Four large low-frequency horns were located behind the screen, two in each corner. The Model W horn in each corner was 8 ft. long, 4 ft. wide, 4 ft. high. The Model C horn in each corner was a modular unit 1 ft. wide and 5 ft. high. Two additional horns were located on a platform in the rear of the theater.
Each horn was driven by a 1000-watt amplifier controlled by inaudible tones on a special optical control track along with the normal 4-track magnetic soundtrack of the 35mm Panavision filmstrip. These films could only be played with Sensurrond-equipped projectors. Normal 4-track magnetic projectors could play the soundtrack but not the Sensurround effects. A 35mm optical print was released with monophonic sound and included the control signals to activate the special speakers if they were installed in the theater. Some prints released in Europe and Japan were 70mm with 6-track magnetic soundtracks using tracks 2 and 4 for the control signals. The tones turned the horns on and off at preset volumes, creating low-frequency vibrations 5-40 cycles at sound pressures of 110-120 db, causing the audience, chairs, floor to "feel" the vibrations of the earthquke and dam destruction scenes. Image at left from the Nov. 1974 American Cinematographer diagram for Sensurround

1974 - November - Dolby Labs demonstrated the first 35 mm Dolby Stereo optical soundtrack on a section of the film, Stardust, at the Society of Motion Picture and Television Engineers (SMPTE) convention in Toronto; the Dolby Stereo 4-channel optical stereo variable area (SVA) was encoded with left, middle, right, and surround channels that became the ISO 2969 standard for motion picture soundtracks, and was the origin of home consumer versions later known as Dolby Surround and Dolby Pro Logic.


1975 - Nuoptix developed an Anticipatory Noise Reduction system for its FR-1 Optical Sound Recording System that was adopted by Hollywood studios to produce optical soundtracks. The system was also sold by Westrex, the former sound and motion picture equipment distributor of Western Electric.The system evolved to use digital audio delay technology for the anticipatory noise reduction and became the worldwide standard system for recording Dolby stereo optical sound tracks.

1975 - March premier in London of the film Tommy, with a Dolby Stereo soundtrack played on the Dolby CP100 Cinema Processor designed to decode magnetic and optical soundtracks.


1975 - September - Lisztomania released as the first feature film with a Dolby Stereo optical soundtrack.


1976 - Spring - A Star Is Born released with surround sound effects encoded in the Dolby Stereo optical track.


1977 - May - Star Wars released in 46 U.S. theatres equipped for Dolby Stereo; Star Wars next spring won the Academy Award for Best Achievement in Sound.


1979 - November - Apocalypse Now released in 15 theaters equipped to play the first Dolby Stereo 70 mm film with surround sound.


1981 - August - Inauguration of Music Television (MTV) in stereo with B-type noise reduction; Dolby B was developed 1968 and used in FM broadcasting after 1971 and in consumer electronics, but did not replace the professional A-type used in motion pictures.


1982 - Return of the Jedi was the first movie exhibited on the THX sound system designed by George Lucas and Tomlinson Holman; THX "is comprised of customized acoustical design work for each auditorium, a special screen speaker installation method, a proprietary electronic crossover network, and rigorous audio equipment specifications and performance standards." (quote from Overview, Lucasfilm THX Theater Sounds Systems page)


1985 - January - VH-1, the 2nd music tv channel, distributed by satellite using the digital process kown as Dolby AC-1


1986 - Dolby SR (spectral recording) optical format demonstrated to the Academy of Motion Picture Arts

and Sciences, with double the noise reduction of A-type; was the origin of Dolby S-type noise reduction for consumer electronics by 1989; in November 1990 Dolby S incorporated into 24-track recorders using one-inch magnetic tape, the Tascam MSR-24S and Fostex G24S


1987 - July - Innerspace and Robocop released in Dolby Stereo SR


1988 - The IMAX digital sound system was developed by Sonics Associates of Birmingham, Alabama. Sonics was founded in 1971 by Lynn McCroskey and Jim Cawhon who began in the early 1980s to develop a sound system for the IMAX theater at the U.S. Space & Rocket Center in Huntsville. By 1988, they developed a Digital Disc Playback system (DDP) that recorded 2 channels of uncompressed digital sound on an audio compact disc. This system with 3 discs and 6 channels began to replace the multitrack magnetic tape sound systems used in IMAX theaters since 1971. In 1993, Sonic introduced the IMAX 3D sound system with 10 channels for the Sony IMAX theater in New York. Theater speakers produce 8 channels from 4 CD disks synchronized with the15-perforation 70 mm filmstrip running through the projector horizontally past a 15,000-watt lamp at 48 frames per second. The 3D headset has 2 additional channels for the binaural Personal Sound Environment (PSE).

1990 - Dick Tracy released June 15 as the first 35mm feature film distributed with a digital soundtrack by Cinema Digital Sound (CDS), developed by Eastman Kodak and Optical Radiation Corp. "The system was set up in the typical Left, Center, Right, Right Surround, Left Surround, LFE channel format. CDS encoded 16-bit PCM audio in a compression process called Delta Modulation. The process is very similar to normal PCM coding, but with one major difference. PCM coding records the intensity of every sample to a zero db level. That requires 16-bits for each sample. Delta Modulation records the intensity differences of successive samples, and that doesn't require nearly as much data. The compression level of CDS ran approximately 4:1." (quote from Bobby Henderson, CDS) However, the system replaced the optical analog soundtrack without allowing any backup track for theaters not equipped with the $20,000 digital playback system. Also, theaters preferred to wait for the Dolby digital system that was compatible with an analog track.
---
Digital Film Sound Formats
---
1991 - Dolby Stereo Digital (SR-D), with compatible Dolby SR 35mm prints providing both digital and analog optical soundtracks, announced at ShoWest in Las Vegas in February as the first application of Dolby AC-3 multi-channel digital audio coding; the SR-D digital sound film format added 6 digital optical tracks, recorded between sprocket holes, to the 4 existing Dolby SR analog optical tracks on the edges of the film strip - SR-D has a compression ratio of 10:1, a dynamic range 120db, a frequency response of 20-20,000Hz, and a 16-bit data rate of 384 kb.


1992 - Batman Returns premiered June 19 in 10 theatres equipped with new Dolby DA10 Digital Film Sound Processor


1993 - Jurassic Park released May 30 as the first film with DTS sound, developed by Terry Beard, founder of Digital Theater Systems in Westalke Village, CA, partly owned by Steven Speilberg and Universal Pictures. This digital sound film format records 6 tracks on separate CD-ROM disks, synchronized by an optical timecode track recorded on the film, co-existing with a backup optical soundtrack similar to Dolby Stereo.

DTS has a compression ratio of 4:1, a dynamic range of 96db and a frequency response of 20-20,000Hz; DTS Coherent Acoustic Coding is flexible and can combine lossy compression (data beyond normal hearing range is removed) with lossless compression (data is sampled and restored), capable of a 24-bit linear PCM data rate, although most common is a 20-bit data rate that is higher quality than the 16-bit rate used in compact discs, and at 240 kb/s per discrete channel or 1040 kb for all six channels, it is faster than the 384 kb used by Dolby AC-3. Theaters are allowed different installations, some known as DTS-6 or as a lesser quality 4-channel DTS-S (see comments of Dan Sharnhorst at "Digital Sound." Bill Neighbors, current president of DTS, claims DTS is installed in 10,000 theaters world-wide with annual sales of $20 million. DTS films include Braveheart (1995, Oscar winner for Best Picture), Apollo 13 (1995, Oscar winner for Best Sound), Twister (1996), Independence Day (1996), the Star Wars Trilogy 1997 re-release, Batman and Robin (1997), Con Air (1997)


1993 - Last Action Hero released July 18 using the Sony Dynamic Digital Sound (SDDS) digital sound film format that put 6 or 8 tracks of digital sound on 2 optical stripes on each edge of the film strip, recorded on the cyan layer beneath the other emulsion layers, using the lossy ATRAC algorithm of the Sony Minidisc technology with a compression ratio of 5:1, dynamic range of 105db and a frequency response from 5-20,000Hz. It is compatible with a backup standard optical soundtrack such as Dolby SR.


1996 - DTS trailer film for Jurassic Park: The Lost World released: "The teaser trailer, which debuted on December 13 at forty locations in the United States and two in Toronto, Canada, is driven by a modified DTS that activated six stategically placed strobe lights employed to comlement the images that appear on the screen. Using DTS technology, the timing for the strobe lights is encoded into the trailer's print, which is synched to the highly reliable DTS CD-ROM system. Audiences viewing the teaser trailer feel as if they are caught in a rainstorm complete with life-like sound and lightning provided by the strobe lights." (press release from DTS).


1996 - The English Patient was the first Oscar-winning American film with a digitally edited soundtrack, winning Walter Murch two Academy Awards for film and sound editing.

1998 - Dolby became the leading producer of motion picture sound processors used in theaters worldwide with over 50,000 sold; projector attachments such as the CP500 digital cinema processor introduced in 1995 were capable of decoding 2 of the 4 soundtracks recorded on most film prints (see chart at right from Audio).

chart from "The Magic of Film Sound" in Audio 1999/05

1998 - Lost in Space premiered April 3 as the first major American film with an all-digitally produced soundtrack.

1998 - The Last Broadcast premiered Oct. 19 as "the first desktop feature film" produced and exhibited digitally, co-sponsored by Texas Instruments using its DLP digital cinema projector.

1999 - Star Wars: Episode I - The Phantom Menace was released May 19 in the U.S. with Dolby Digital Surround EX providing an added rear center audio channel. On June 18, it was the first major studio motion picture to be exhibited in digital cinema in 4 theaters with digital projectors by Texas Instruments and by CineComm.

2000 - Jan. 1 Disney released Fantasia/2000 in the IMAX film format with 6-channel digital sound.
---
Bibliography
American Cinematographer, "Sensurround." Nov. 1974, p. 1312.

Baldock, Mark R.VistaVison. 1 June 1997.
Culhane,John. Walt Disney's Fantasia. New York: Harry N. Abrams, 1983.

Daniel, Oliver. Stokowski: a Counterpoint of View. New York: Dodd Mead, 1982.

DelGrosso, David. DTS Technology. October 1996.
Digital Sound Page, 3 May 1996.

Dolby Laboratories, Chronology of Dolby Laboratories from 1965 to 1989 and from 1990-present. San Francisco, CA. 1 May 1997.

Fielding, Raymond. A Technological History of Motion Pictures and Television; an Anthology from the Pages of the Journal of the Society of Motion Picture and Television Engineers. Berkeley, University of California Press, 1967.
Hilton, Kevin. "The Phantom Menace," Studio Sound March 1999.
Holman, Tomlinson. "Lucasfilm's approach to bringing the theater experience home." Stereo Review, April 1994, article reproduced at Lucasfilm THX page.

Klapholz, Jesse. "Fantasia Innovations in Sound," Journal of Audio Engineering Society 39, Jan/Feb 1991, pp. 66-70.
Lucasfilm, Ltd. THX Theatre Sound Systems, San Rafael, CA. 1 May 1997.

Mead, William. Cinema Technology Page, including SDDS FAQ. 1 June 1997.

Neighbors, Bill. Interview with Business Unusual, CNN televison broadcast May 31, 1997.

Roudebush, James. "Filmed in Panavision: The Ultimate Wide Screen Experience" article in Secrets of Home Theater & High Fidelity. January 1995.

Scientific American. "The 1997 National Medal of Technology: Ray Dolby" in Explorations. May 1997.

Sharnhorst, Dan. "Digital Sound" in Moviegoers Guide to Movie Theatres. 24 May 1997.

Sun, Perry. Movie Sound Page. 25 May 1997.

DVD Resource Page from Steve Tannehill has links to DVD information and to Jim Taylor's DVD FAQ
---
© 1999 by Steven E. Schoenherr. All rights reserved.

---
Motion Picture Sound Part 1 | Recording Technology History Notes | this page revised 1/5/2000