Uppsala III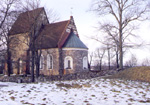 G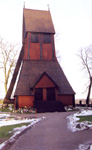 H
I
G- Gamla Uppsala Kyrkan (Old Uppsala church). This church was built in....., although it stands on the site of the original gamla Uppsala chuch, which was in turn built on, or near the old pagan temple of the Vikings and the Svea (pre-vikings).
H- Gamla Uppsala's Bell tower. Most of the old churches int he Upplands area have their bell towers away from the actual church building itself, unlike the more modern churches which have the bell towers incorporated.
I- The burial mounds at Gamla Uppsala, where Svea kings and Viking kings and Queens are entombed. Originally Gamla Uppsala was very close to water level, but uplifting in the Upplands area has raised it some 15m above the current sea level.